Costa Rica, a privileged destination for Nearshoring
In recent years, the Covid-19 pandemic triggered one of the strongest historical disruptions to international trade, setting off alarm bells around the world, and leaving important lessons about logistics and transportation opportunities.
This situation encouraged companies to accelerate the implementation of nearshoring, known since before the pandemic as an option to optimize supply chains, and take advantage of these commercial dynamics.
Costa Rica has a privileged geographical location in Central America due to its proximity to North
American companies, as well as to the remote operations of European companies. In addition, there are favorable conditions for investment, historical political stability, and technical and professional human talent.
Nearshoring is the strategy whereby a company relocates part of its production to a country that is closer to its headquarters, and in a location with legal certainty and other advantages. In this way, long distances and time differences are no longer a problem.




Nearshoring was born from the definition of 'approach to markets', a term that has gained special relevance in current times, when transport logistics and customs facilitation have become a challenge," said Álvaro Carballo, President, CODE Development Group.
Beyond the pandemic, growing environmental concerns and Russia's recent war in Ukraine have created a context in which the region can make a greater impact.
Latin America "can contribute to the global economy and the fight against inflation through greater participation in global supply chains in a sustainable and equitable manner," said IDB President Mauricio Claver Carone.
This trend opens the door for Latin American and Caribbean countries to attract an increase of US$78 billion in trade in goods and services in the short and medium term (including US$64 billion in goods alone and US$14 billion in services), highlighting the automotive, textile, pharmaceutical and renewable energy industries, among others, according to calculations by the Inter-American Development Bank (IDB)
Costa Rica is on the radar for opportunities to increase exports of goods through nearshoring, with US$1.544 billion, placing it among the 10 countries with the greatest opportunities in the region.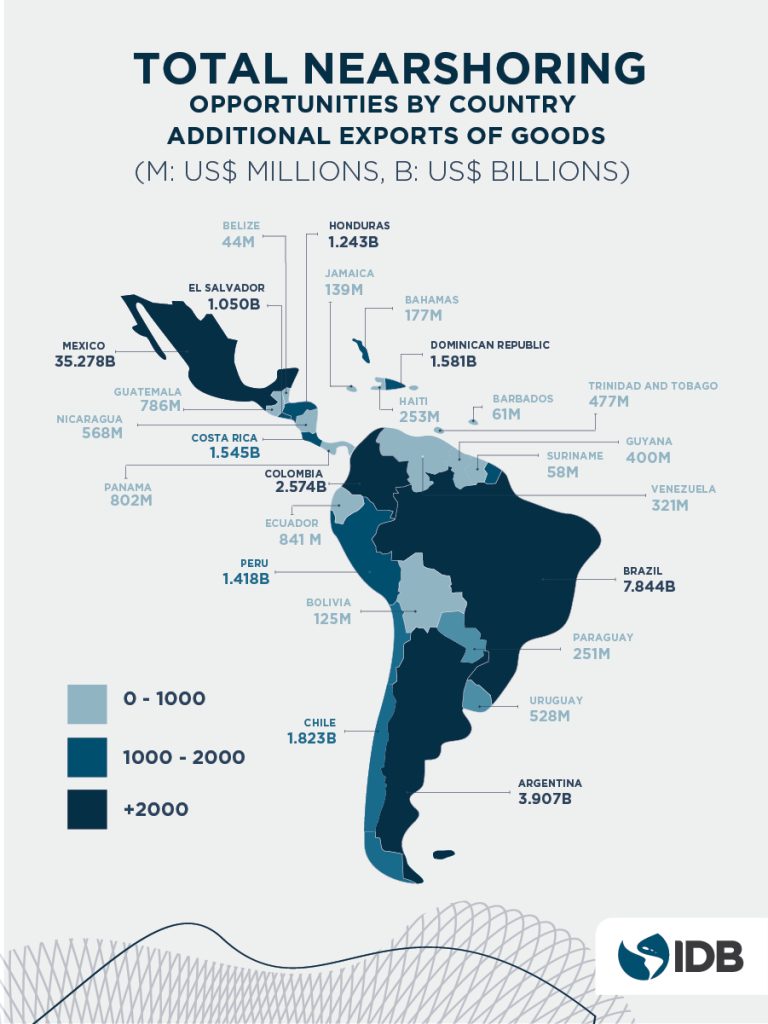 Costa Rica advantages attracting Foreign Direct Investment
Costa Rica's know-how in attracting Foreign Direct Investment and international trade, as well as the joint work of universities, public and private institutions, have allowed the country to be in the international spotlight, in particular for its recognition as a leader in the medical device segment in Latin America.
The development of Costa Rica's medical device industry has been highlighted by international organizations, paying special attention to the capabilities of its human talent. In 2021, and despite the pandemic, exports of goods and services from this country registered a 24% growth, the highest increase in the last 15 years, reaching a figure of US$14.553 billion, data from the Foreign Trade Promoter of Costa Rica (Procomer)
The precision and medical equipment sector – the country's main export sector – grew 33%
 The food industry, 26%, and
The chemical-pharmaceutical industry, 10%.
Other sector that also recorded significant increases was electrical and electronics, metal-mechanics, plastics, and livestock and fishing.
The products with the highest growth during 2021 were: medical devices, syrups for soft drinks, pineapple, electric cables, iron and steel bars, palm oil, fruit juices and concentrates, tires, glass containers, iron pipes and fittings.
This significant increase has also been supported by the nearshoring trend that has added more companies to the Costa Rican export pool.
The public-private alliances that have worked to strengthen and modernize the operations of the Free Trade Zones are an advantage for Costa Rica. Undoubtedly, the proximity to the United States and the experience in international industrial investments, as well as the presence of free trade agreements, add to the list of advantages offered by this Central American country.
The country also offers skilled human talent, as well as the presence of universities and technical colleges for the continuous training. All these elements add up to capitalize nearshoring as a development tool.
Costa Rica provides multiple advantages as a nearshoring location:
+450 multinational companies
+1,000 weekly international flights
+35 direct international flight connections
Competitive maritime transport costs
Competitive Free Trade Zone Regime
FDA headquarter offices in Costa Rica for Latin America
Evolution Free Zone is supported by more than 20 years of experience of CODE Development Group. If you are looking for Costa Rica as a potential destination for your company, please get in touch with us, and we will give you any advice you need; click here.